Hello Bookwoorms!!
Today is the last day of the Harry Potter week event created by Margaret, well I'm pretty sure it's already Wednesday in some countries but here it's still 26th and I didn't want to just not make a post.
I'm gonna try to do all the other ones I didn't do in this post haha but first WE ARE FINALLY LEGAL!!!!
SHIPS!
I don't really have a lot, I don't think the story needed a lot of that romance part and I enjoyed other parts of the story more but some of my favorite ships are:
Remus and Nymphadora Lupin: Am I the only one who thinks these two are just really good for each other? I just think they had a really good connection and she's just a really nice and funny complement to our werewolf.
Arthur and Molly Weasley: They deserve more recognition, the way they complemented each other to be the best parents they could for their sons is just GOALS!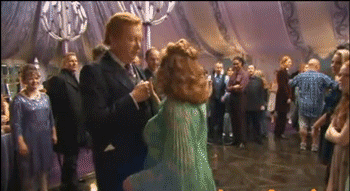 Neville Longbottom and Luna Lovegood: Even if we didn't get to see too much of their relationship, I just know they are perfect for each other. Luna is such a special girl and I can't think of a better person to be with her than Neville, I know he'll take good care of her.
Controversy…
As you could see I don't have a lot of ships, not sure if that makes me a bad fan but the older I get, the more I read the books and the more I realize that couples weren't really necessary. The book already had such an exciting and adventurous plot, that most of the romance was just meh!. Saying that, I do believe that J.K. Rowling did it in order for it to feel more real, perhaps? I'm okay with Romance in books. But, specially the whole love thing between Ginny, Harry, Hermione and Ron just felt a little bit awkward, the whole time. Starting with, Ginny and Harry they had no chemistry whatsoever, and on one of my lasts posts I could read that some of you agree with me and also saw how awkward the whole situation was. Hermione and Ron, Harry and Hermione… the problem with this is that they were all best friends and probably because I started watching the movies and reading at such a young age, they felt a lot like the kind of friends that stay with you through your whole life and are almost like siblings but never something else, so for me the romantic thing between them is just a NO. I do think that Hermione and Harry made more sense, since they have similar personalities but it still makes me feel weird.
---
A Thank You…
First I want to thank Margaret for coming up with the idea of this event. Harry Potter means a lot to me and this was such a great way to show all that love through these days.
Dear Joanne,
There's really not a lot left for me to say that other people haven't said. Harry Potter has changed and united the lives of millions around the world. Being part of such a big fandom has been an amazing experience for me and I'm sure it is like this to everyone who is part of it.
Since I discovered the series, Hogwarts has become my home, the one that I'll always keep in my heart, because for me all that magic is real. It has changed me and my perception of life from a young age, teaching me to be more grateful for all the little things and the people I have with me. Harry Potter has grown with us and in every book we can see how you try to gives us a life message that has passed through all the time barriers.
Thank You for creating a story, that is now my escape whenever I need one from this world and that has cheer me up anytime I need it. Thank You for all the laughs and for teaching us that we can overcome all our fears, that even our hardest goals are conquerable and that the value of friendship and family is something we should always keep with us, because in the hard times, those are the ones that will always be there.
Thank You for making the world believe in magic again!
---
This makes me truly emotional, Harry Potter means so much to me, it's the only fandom I really feel like I'm part of so Happy 21st Anniversary to all of you potterheads like me, that loved the story and that enjoy it even more throughout the years. I think this is one of those book that will survive through time because I'm definitely making my kids and their kids and their kids read it hahaha!
Hope you are all having a great Tuesday/Wednesday! My question for today is What does Harry Potter mean to you? I would love to know how much these series have touched your lives!
And now we're 21 so let's…