Hellooo Bookwoorms!
A really long time ago I was tagged by Karen Jo from Sincerely Karen Jo, to do the 90s movie book tag, thank youu for tagging me, I'm a huge 90s fan!
---
Name a book couple that is an odd pairing but they still fit perfectly.
Madeleine and Bruce from Batman:Nightwalker. I just read the book and even if they were a bit cliché and the whole relationship felt flash. I still think they were just so different, when she first appeared in the book I never expected them to end up together, I still think that somehow their relationship just felt weirdly right haha.
10 Things I hate About You
A book/series that you have a love hate relationship with
A Court of Thorns and Roses books! I loved some parts, I hated some others… I hate when I can't make up my mind about something haha. Btw: Who else is a big Fan of this movie? I LOVE IT so much, it deserves a gif of my favorite part: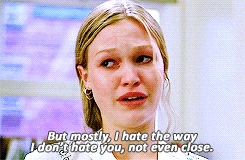 A character that is totally clueless but you love them anyway.
Neville Longbottom from Harry Potter. He's probably the clueless character I've ever read about but I LOVE HIM, and for me he's one of the bravest in the whole series.
Titanic
Name a book that made you cry
I cry all the time, that's how I express when I'm too happy or too sad. There are a lot of books that have made me cry. The first books that come to my mind are the ones by Khaled Hosseini and The Notebook by Nicholas Sparks.
A book that makes you laugh
I don't read a lot of comedy but I guess The Illuminae Files did make me laugh a lot!
A book with a crazy party
Oh, this is a hard one. I guess I could say Before I fall because they did have a party and it went pretty crazy, you know what I mean if you've read the book! no spoileers haha!
Name a character you can never fully trust
I couldn't think of anyone else so I'm gonna go with Tamlin from ACOTAR series, he did some bad things but then he also did some good. I don't hate him but I don't think I can trust him ever again.
Name your favorite "boy next door" or "girl next door" couple
Aza and Davis from Turtles All the Way Down, I know a lot of people hated this book but I think their relationship was really cute. It was nice how she felt safe around him and that he understood everything she was going through. We all need someone like that!
A book with a memorable villain
Voldemort, I'm sorry I know I repeat this all the time but there's just no other villain I think it's better than Voldemort! J.K Rowling did an amazing job!
Name a book with witches
So I wasn't a big fantasy fan before, I don't think I'm there yet haha. I read mostly romance and YA back in the days and the only one I can think about is Harry Potter. So, here's a goal for me, read more books with witches!
---
I hope you enjoyed reading this tag! I'm gonna tag a few people, but anyone who wants to do it is welcome to try it. I would love to read everyone answers!
Hope You are all having  an amazing daay!