Helloo Bookwoorms!
Today I'll talk about something that has been on my mind for the longest time. Last year I started seeing that a lot of people on youtube and instagram were really into these books from A Court of Thorns and Roses by  Sarah J. Maas, I'm not the biggest Fantasy fan but after some time I just started seeing it everywhere so I had this need to just read it. I got the books at the end of last year, and I recently finished the series with the last book A Court of Wings and Ruin and I was really wondering after reading it if the series is truly worth all the hype around it.
So I wanted to write my opinion about each book in this post and see if I can get a conclusion at the end of it. If you haven't read one of the books then you should probably not read that part, there aren't any BIG spoilers but I understand not wanting to know small details, so be careful! You could also just read the conclusion or the gifs!
A Court of Thorns and Roses
You can read the goodreads synopsis here
Rating:
The First book was okay, it was not super bad but It definitely wasn't perfect. I think it leaves a lot to think about and the whole plot  didn't convince me too much. The writing was okay, I had fun reading it. The first pages were extremely slow and it took me a long time to read it but after some pages it started getting interesting, although not as much as I expected. I didn't like the characters in this book, I didn't like Tamlin, I didn't like Feyre, I didn't like Feyre's family, Honestly the only ones I liked in that first book were Lucien and Rhysand. The way Tamlin treated Feyre, It just bothered me soo much, that "instalove", I just didn't like it and that was like 70% of the book. The other 30%  was good, I loved the world The author created, I think it's really original and well-thought. The writing and descriptions in the book were really well done, it didn't feel like too much but it let you imagine the setting. The end of this book saved the whole book for me, not for the happily ever after but because it left me wondering what was going to happen with Feyre after what had been done.
A Court of Mist and Fury
Goodreads synopsis here.
Rating: 
THIS BOOK FROM START TO END HAD ME GOING CRAZY! I loved this book, It's probably going to be on my top 10 at the end of the year. Everything was amazing. I honestly, loved how Feyre stood for herself and didn't let Tamlin manage her life anymore, that honestly made me so happy. I loved the kind of connection she had with Rhysand, I loved that with him it was always a choice and not because SHE HAD TO. The Introduction to Velaris was a dream, reading the descriptions about this world was just amazing, Sarah J. Maas is an amazing writer, very careful and precise with her words. The plot extremely well constructed, it kept me wanting to read more and more about what was going on. The introduction to new characters was just awesome, Rhysand's friends are all perfect, but the women in his group, Mor and Amren were badass and reading the story behind them was really interesting, how they stood up in a world ruled by men. The end in this book was shocking, I did not expect that end. It was GENIUS! The only reason why I didn't give this book 5 stars is because I still wasn't too convinced with Feyre, she's the main character so it's like a big deal for me that I don't really like her.
A Court of Wings and Ruin
Goodreads Synopsis here.
Rating: 
I had a BIG problem with this book. The first 400 pages of the book were meh. This was the most recent one so I have very clear the things I was not happy with, they were all pretty personal. First, Vengeance, I understand the reasons that made Feyre feel so much hate against Tamlin, I understand her feelings but I just can't enjoy reading those things. It became a really negative space and plot and those first pages were just not something I liked. Second, The excessive sexual references and chapters, I feel like it would have felt a lot more special if she had just added 2 or 3 max. of these things. It was not necessary, I felt like screaming to the book I GET IT, NOW PLEASE TAKE ME BACK TO THE REAL ACTION. Third, NESTA, soo muh Nesta and I just don't like her, she's a really mean person and Cassian, YOU DESERVE BETTER. After those really meh first pages, then the real action began and I LOVED IT! There were some chapters that honestly had me wanting to go inside the book and live it with them. There were some plot twists that were just crazy and had me crying, laughing, screaming, falling in love. I was a Rollercoaster of emotions. The war, the killing, the DRAMA, the description in those last pages were everything and I forgave the book for the first pages and decided that those last pages were so magical that it just deserved a good rating. The end was good, I didn't imagine it going any other way, It made me suffer but that end was worth it.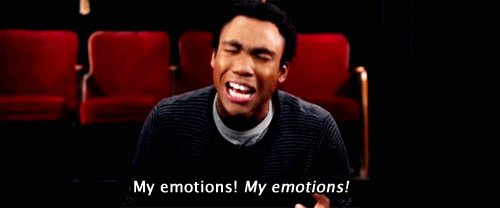 Are they Overhyped?
I want to say that this is a really personal opinion and if you LOVED or HATED the books, it's still a valid answer and it counts.
It was a really good story. It had a lot of things that I didn't like. One thing is for sure and that is that I will never forget this world, I loved the world and the details it had were amazing. Characters like Amren, Mor, Lucien, Azriel, Cassian and Rhysand I will never forget about them, but based on what I believed it was going to be and what it became sadly, it didn't do it for me. I expected so much more, especially from the first book, I do think she made amazing progress with the second book and if we were just basing this in the second book, I would probably say it's worth all the hype it had. The third one, that start was again, not what I thought it would be but the end was really great. There were a lot of ups and downs. I believe these books are extremely overhyped when probably just one of them truly deserves it.
This opinion doesn't mean that they were bad books. I enjoyed all the books, some more than others and I definitely think that if you're planning on reading these books, you should give them a chance, they are really entertaining and the writing is really good.
I want to hear your opinions, Do you think they are overhyped? Did you LOVE all the books? Were some better than others? Which one was your favorite? Tell me on the comments!!
Thank You so muuch for reading my post, Hope you are having really good reads!